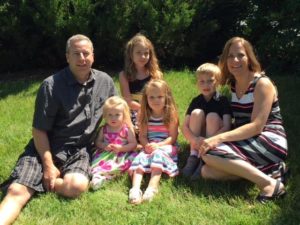 Hi, and thanks for visiting my website. My name is Brian Grimm. I'm the proud owner of Distinctive Cabinets – a locally owned, custom cabinet shop in Luxemburg, WI. I have over 15 years of experience building cabinets. Being a cabinet maker has been a great career, and my favorite part is making my customers' dreams come true. I absolutely love building things that my customers will enjoy for years to come.
We specialize in all types of cabinetry, including kitchen, bathroom, and office cabinets. We also build furniture, bars, closets and more. Whether you have a new construction or remodel, we're here for you!  We also have an in-home cabinet showroom at our home in Luxemburg, which you're invited to check out (by appointment).
When I'm not working, I spend my free time with my lovely wife, Jessica, and our three small kids (Rachel, Dylan, & Miranda). They definitely keep me busy, and I love every minute of being a father! Nothing is more rewarding. But when I need to get away from all the chaos, you can find me bowling at Rendezvous, out on my snowmobile, or watching the Packers.
Once again, thanks for visiting my website, and I look forward to hearing from you – so give me a call, or send me a message today.
Have a great day!
-Brian Grimm
Owner & Cabinet Maker